Welcome
---
GCF Grants for Kids. The Greater Cincinnati Foundation is accepting applications for its Learning Links program up through May 15. To find out more about the program and the new online application process, go to www.gcfdn.org. The program is one of two Grants for Kids programs that have long been supported by the Dater Foundation. Learning Links and Summertime Kids are designed to fund innovative education projects for children during the school year and in the summer. Both programs make awards of up to $1,000 to schools and non-profit organizations that work with kids. The application deadline for Summertime Kids was March 22.
The Charles H. Dater Foundation
was founded in 1985 and makes grants to non-profit organizations in the Greater Cincinnati area to carry out projects that benefit young people and focus in the areas of arts/culture, education, healthcare, social services and other community needs. The Foundation does not operate programs, but makes grants to private, non-profit organizations and public agencies for their programs and projects.

The Foundation has made over 2,900 grants totaling more than $45 million. Established to ensure that funding for worthwhile community programs would continue after his death, the Foundation preserves the memory and philanthropic commitment of Charles H. Dater (1912-1993) and his ancestors, whose hard work and business acumen over four generations provided them with the opportunity to share their success with their community. The Foundation has no full time staff and is guided by an active Board of Directors.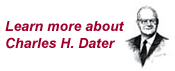 Cincinnati Shakespeare's Groundings Program



Shakespeare-intensive Groundings Program for high school students gets high praise from this mother.





Dater Foundation Awards Seven Grants in March



The Dater Foundation awarded seven grants totaling $107,000 in March, including a $20,000 grant to Girls on the Run for scholarship support so that girls from low-income families can participate in its fall 2018 program and run.




We'll send you news about the Foundation and grant successes